Latest COVID-19 updates
Health & Safety
Safety
Marietta's staff members strictly follow all safety protocols set by the local authorities. Hand sanitisers are available throughout the complex, including both shared areas and guests' rooms, suites, and studios.
A first-aid kit is available.
Guests are provided with thermometers and protective face masks upon request.
Hygiene and Cleanliness
Use of special chemicals for industrial use specifically created to effectively clean and protect against coronavirus.
Linen, bedding, towels, and clothes are washed under the instructions of local authorities.
All units are disinfected and thoroughly cleaned (and shut) after a guest leaves their room, suite, or studio.
The holiday complex is cleaned by professional cleaning companies.
Guests may choose not to use the on-premises cleaning services during their stay.
Social distancing.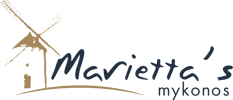 Rooms, Suites & Studio
Open: April to October
Agios Antonios (Myloi - Venice)
84600, Chora, Mykonos
Cyclades Islands, Greece
Tel. +30 22890 25023
Fax: +30 22890 26347
Mobile: +30 694 522-5390
E-mail: info@mariettas.gr