What would you say about making that trip you have always wanted to a Greek Island this summer? Whether you are craving for a vacation filled with moments of unwinding or you are dreaming of wild nights-out, Mykonos Island, Greece is the perfect destination for your holiday.
Have you made up your mind and already booked flights? It's time to pick the right location for your accommodation in comfortable and cozy rooms in Mykonos. Well, words are not enough to describe Mykonos Town or else Chora, the capital town of Mykonos Greece. It has a vibrant ambience and gives out a sense of liberation. The picturesqueness of the surroundings and the traditional architecture seem somehow familiar and the heart-felt hospitality of the locals makes you feel more welcome than in any other place worldwide.
You will be delighted to find a wide range of Mykonos accommodation types, in every coastal or hillside settlement of the island, but if you have decided to spend your vacation where the heart of Mykonos beats, booking rooms in Mykonos Town is your best bet.
The Marietta's Mykonos rooms as well as our suites in Mykonos Town are situated at the centre of Chora, in a quiet location nearby charming bars, all-day cafés and coastal restaurants and great clubs, giving you the advantage of dining or joining the party atmosphere whenever you feel like it. All Marietta's rooms in Mykonos offer great views of the famed "Little Venice", the unforgettable sunset and the sea, as well as the windmills, the trademark sight of Mykonos Greece.
At the Marietta's rooms in Mykonos you will be welcomed with a smile by the friendly and discrete staff that will provide you with first rate service. Those comfortable rooms offer prime amenities ensuring a relaxing stay to couples, and groups of friends. Apart from rooms in Mykonos Town the Marietta's proudly supplies guests with accommodation in well-equipped Studio in Mykonos Town from which you will be able to admire a wonderful Mykonos vista.
For more information about Marietta's suites, studios and rooms in Mykonos Greece do not hesitate to contact us. We will be more than glad to receive your reservation request and give you details about our special prices.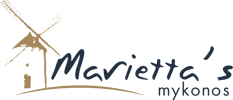 Rooms, Suites & Studio
Open: April to October
Agios Antonios (Myloi - Venice)
84600, Chora, Mykonos
Cyclades Islands, Greece
Tel. +30 22890 25023
Fax: +30 22890 26347
Mobile: +30 694 522-5390
E-mail: info@mariettas.gr